WIDENING OF A8 MOTORWAY SOUTH OF MUNICH TO THE GERMAN-AUSTRIAN BORDER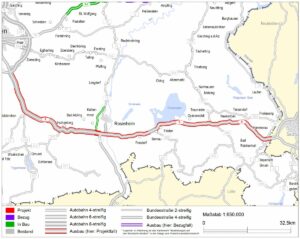 OVERVIEW
The A8 motorway is a major German road axis which crosses the South-Eastern part of the Free State of Bavaria. It is part of the TEN-T Core Network, specifically the Rhine-Danube CNC and connects Germany with Austria, linking Munich to Salzburg.
This project regards the widening of the transversal section to 6/8 lanes of the motorway A8 from the South of Munich to the German-Austrian border via Bad Reichenhall, for a total length of 116 km. This section is considered a bottleneck of the Rhine-Danube CNC, leading to congestions and undermining the mobility across a major road infrastructure of Bavaria.
The project promoters are the German Ministry of Transport and the Free State of Bavaria.
IMPORTANCE
The project is meant to improve the characteristics of the A8 in terms of traffic safety, of the quality of transport and to alleviate some environmental issues.
The widening project of the A8 would allow to achieve technical compliance with the current standards for motorways. The A8 motorway is one of the oldest in Germany. It was built between 1934 and 1939 and shows the typical features of a pre-war motorway.
COST
The total estimated investment cost accounts for approximately € 1,4 billion. The investment cost per km varies in the interval € 6-16 million/km.