REHABILITATION OF THE RUSE-VAR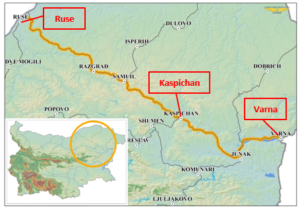 OVERVIEW
This project regards the rehabilitation of the Ruse-Varna railway line.
The Ruse-Varna railway was the first line to be built in Bulgaria, in 1866. The line is approximately 232 km long and consists of two main sections: Ruse-Kaspichan and Kaspichan-Varna (see Figure 7-1). The Ruse-Varna railway is part of the TEN-T Comprehensive Network. It is a very important link, being the unique connection between the cross-border river port of Ruse (i.e., on the Danube River) and the Black Sea port in Varna. On the Romanian side (i.e., FR8), the section continues along the Giurgiu-Bucharest line.
The project promoter is the State Enterprise National Railway Infrastructure Company (NRIC).
GOAL
The rehabilitation of the Ruse-Varna railway line shall contribute to the improvement of freight and passenger mobility between Bulgaria and Romania, as well as with the neighbouring EU Member States. The main objectives of this project are:
to increase rail transport services quality, reliability and safety due to the improved technical parameters and the interoperability of the line as part of the EU network;
to create the conditions for the development of intermodal sea-railway-river transport, contributing to the promotion of intermodality, by enhancing the connection of two main ports in Bulgaria, one maritime and one a river port;
to stimulate the economic growth of Bulgaria through reliable passenger and freight railway transport;
to optimise the capacity and efficiency of the existing infrastructure;
to integrate environmental concerns in the design and implementation of the TEN-T Network.
The project was developed on the revised TEN-T policy, in order to eliminate a bottleneck of the interconnections between the South-Eastern region of the EU and the EU neighbouring countries.
Besides, the project also aims to cope with the increasing transport demand, as the latest traffic forecasts show significant increments of traffic volumes on the relation served by the line.
COST
Based on the latest project revision, the identified project alternative is B1, with an estimated investment cost equal to € 383 million.