RECONSTRUCTION OF THE RAILWAY LINE NIŠ-DIMITROVGRAD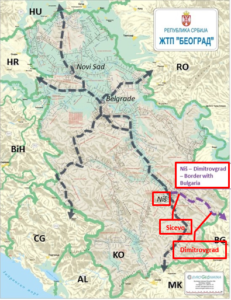 OVERVIEW:
The project regards the reconstruction and modernisation of the railway line Niš-Dimitrovgrad. The railway line connecting Niš with Dimitrovgrad and the Bulgarian border is the branch Xc of the SEETO Corridor X. This classification is a heritage of the Pan-European Corridors established during the 90s, when the branch Xc was defined as a connection between Niš, Sofia, Plovdiv, Dimitrovgrad (BG) and finally Istanbul.
IMPORTANCE
The line is part of the corridor connecting Central Europe to Bulgaria and Turkey through Croatia and Serbia. It is an alternative to the TEN-T Rhine-Danube CNC. The rail section between Niš and Dimitrovgrad is an important bottleneck, being the only part of the entire corridor that is not electrified and having a weight limits of category D3.
COST
The estimated investment costs for the reconstruction of the Sicevo-Dimitrovgrad section, including preparatory works for electrification and signalling and telecommunication systems, was estimated to be € 84,4 million, while the electrification of the entire section from Niš to Dimitrovgrad was recently estimated to be € 59 million.