MODERNISATION OF THE RAILWAY LINE VOLUJAK-DRAGOMAN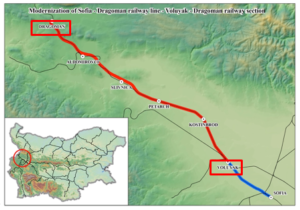 OVERVIEW
This project regards the modernisation of the railway line Volujak-Dragoman and, as a result, the completion of the global project "Modernization of Sofia-Dragoman Railway Line". The Sofia-Dragoman railway line is part of South-East Axis, the extension of the major TEN-T axes to the Neighbouring Countries. This is also the main direction between Europe and Asia and part of the Orient/East-Med CNC. On the Serbian side, the line extends to the Niš-Dimitrovgrad line.
As part of the cross-border section of the TEN-T, the Volujak-Dragoman modernisation project is of great importance both at national and European level. It also incorporates the necessary measures for the achievement of an interoperable rail network by the optimisation of the capacity and efficiency of existing and new infrastructure, improvement of the safety and reliability of the network.
The project promoter is State Enterprise National Railway Infrastructure Company (NRIC)
GOAL
The major objectives of the project are the following:
to ensure the modernisation of the railway infrastructure, improving railway transport in the region;
to eliminate bottlenecks and complete the missing link cross-border section of the Trans-European Railway Network;
to improve technical parameters and speed of movement in the region, including the creation of conditions for the optimal combination and integration of various transport models and the capacity optimisation;
to increase the volume of cargo traffic, to improve the comfort of passengers for intercity and international trips conditions and to reduce travel times.
COST
The estimated investment cost is € 167.779.270 (without VAT).