MODERNISATION OF THE RAILWAY LINE DUGO SELO−HUNGARIAN BORDER (SECTIONS DUGO SELO−KRIŽEVCI AND KRIŽEVCI−STATE BORDER)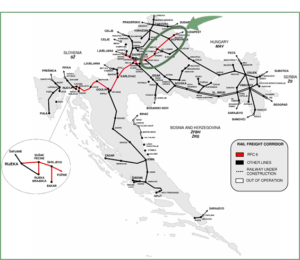 OVERVIEW
The project regards the modernisation of the cross-border railway sections Dugo Selo-Križevci and Križevci-state border with Hungary. The railway line connecting Dugo Selo with the Hungarian border is part of the Mediterranean CNC and, more in detail, it is part of the link connecting Zagreb with Budapest. The line is also part of the Rail Freight Corridor 6.
The promoter of the project is HŽ Infrastruktura, the national rail infrastructure manager of Croatia.
IMPORTANCE
The rail line modernisation is a part of a larger project for setting up a high-efficiency, double-track railway line for mixed transport along the entire Mediterranean CNC, which will connect the Iberian Peninsula through the Port of Rijeka, Zagreb and Budapest with the Hungarian−Ukrainian border and TEN‑T European network. The rail line modernisation will increase in traffic volumes towards central European countries by connecting Rijeka and Zagreb to the Hungarian rail network.
COST
The project is divided into two sections: Section Dugo Selo-Križevci and Section Križevci-Koprivnica-state border. The total estimated implementation cost (including expropriation, supervision and contingencies) for the first section is exactly € 194.623.502,50 or € 5,1 million per km, while the total estimated cost for the second section comprises € 297,11 million (of which € 283,94 million are eligible costs).