FEASIBILITY STUDY OF THE MOTORWAY SECTION BELGRADE-PANČEVO-VRŠAC TO ROMANIA BORDER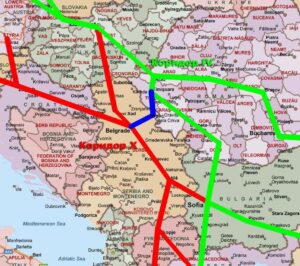 OVERVIEW
This project regards a feasibility study for the construction of a new motorway from the end of Belgrade bypass in Pančevo to Vršac and the Romanian border. This section belongs to the E-network of major European roads directing from West to East (i.e., route E-70). This section is the main road connecting Serbia with Romania, linking Pan-European multimodal transport Corridors X and VII in Belgrade with Corridor IV in Timisoara.
IMPORTANCE
The implementation of this road section would complete the missing motorway link between Serbia and Romania.
COST
The financial analysis has not yet been carried out.