CONSTRUCTION OF TWO DUAL-CARRIAGEWAY SECTIONS AS CONTINUATION OF THE A5 NORTH MOTORWAY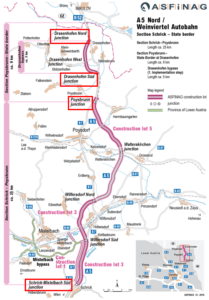 OVERVIEW
The A5 North motorway is a road axis crossing the North-Eastern territory of Austria. It is connected with the expressway R52 in the territory of the Czech Republic. This link is of great significance for the economic integration of the two countries and for the enhancement of the interregional connection. The implementation of the project would ensure a high-quality accessibility to Vienna and become the main route between Vienna and Brno.
The project concerns the construction of two dual-carriageway sections as a continuation of the A5 North motorway. The two sections involved are Schrick-Poysbrunn and Poysbrunn-state border with Czech Republic (including the bypass of Drasenhofen). The total length of the two sections is 33 km.
The project promoter is ASFINAG, the fully public-owned concessionaire in charge of motorway network management of Austria.
IMPORTANCE
The completion of the A5 North motorway is expected to divert most of the traffic from the B7 (i.e., the Brünnerstrasse), which crosses several towns along the alignment. Indeed, the traffic diversion from B7 to A5 will prevent small villages from intense truck traffic flows, thus reducing polluting emissions, congestions, noise and road accidents.
COST
The total estimated investment costs amount to € 444 million. The investment cost per km is approximately € 13 million/km.