CONSTRUCTION OF THE THIRD LANE ON THE A4 MOTORWAY (SECTIONS FISCHAMEND-WEST BRUCK AND WEST BRUCK-NEUSIEDL)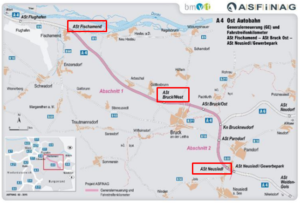 OVERVIEW
The A4 motorway is a major axis, connecting Vienna to Budapest. It is part of the Rhine-Danube and the Orient-East/Med CNCs, thus representing an important section for the TEN-T Core Network.
This project regards the construction of the third lane on the A4 motorway sections Fischamend-West Bruck and West Bruck-Neusiedl, in the region of Lower Austria. The total length of the concerned road section is 26,5 km, notably 15,9 km from Fischamend to West Bruck 10,6 km from West Bruck to Neusiedl, respectively
The project promoter is the fully public-owned Austrian road infrastructure manager ASFINAG.
IMPORTANCE
Due to the steadily growing traffic volume, the widening from 2 to 3 lanes per carriageway has been planned in order to improve the level of service and traffic safety of the section. It is also expected that the increased capacity could relief frequent congestions and improve the connection of the Eastern Austria to the nearby airport of Vienna.
COST
The total estimated investment cost accounts for approximately € 245 milion. The investment cost per km is approximately € 9 million/km.