CONSTRUCTION OF HAJDÚSÁMSON BYPASS SECTION, ROAD 471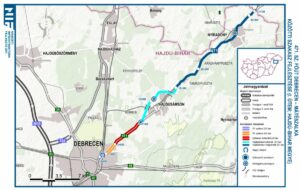 OVERVIEW
The project is localised on the road M471, which crosses the town of Hajdúsámson, in the County of Hajdú-Bihar. The road M471 is part of the TEN-T comprehensive network and is the North-East axis of the County, connecting the city of Debrecen to the state borders with Romania and Ukraine. This project regards the construction of the Hajdúsámson bypass (i.e., 8,6 km long).
The project promoter is the National Infrastructure Developing Private Company Limited (i.e., NIF), the rail and road infrastructure manager of Hungary.
IMPORTANCE
The Hajdúsámson bypass is part of a long development project of road 471, which once completed is expected could generate benefits with respect to: time savings, safety levels, environmental impact and vehicle operating costs. The project could improve the accessibility of the region enhancing the mobility of both passengers and freight.
COST
The total estimated investment cost is nearly equal to € 33 million