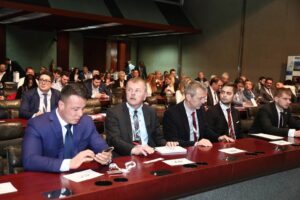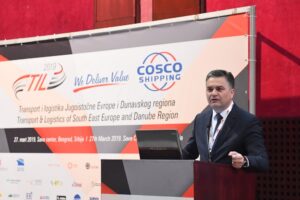 The 6th Business Conference "Transport and Logistics in the Southeast Europe and the Danube Region – TIL 2019" was held on 27th March 2019 at the international congress, cultural and business centre "Sava Centar" in Belgrade under the institutional patronage of the Ministry of Construction, Transport and Infrastructure of the Republic of Serbia in the role of EUSDR PA1b (Priority Area 1b: to improve mobility and multimodality – road, rail and air links). The general patron was the world leader in international shipping, the Chinese COSCO Shipping and technical organization was responsibility of Mass Media International.
Continuing a successful tradition, the conference was organised sixth year in a row. TIL is focused on the business interests of the participants, created as an excellent platform for constructive business networking and confirmed as a gathering place for leaders.
The 6th Business Conference "TIL 2019" was attended by over 400 participants, decision makers from more than 150 leading companies from key transport and logistics industries in the South East Europe (SEE), the Danube region, the EU and beyond (China, Russia, Azerbaijan, Turkey) and relevant state institutions.
At the opening ceremony of the sixth conference "Transport and Logistics of Southeast Europe and the Danube Region" introductory speech was delivered by the Serbian Deputy Prime Minister and Minister for Construction, Transport and Infrastructure Prof. Dr. Zorana Mihajlović. She stated that infrastructure is the most important area in the development of the Serbian economy and economies of countries in the region. She pointed out that a new investment cycle in the field of infrastructure worth 5.5 billion euros will begin this year in Serbia. Serious strides have been made in road infrastructure, railways, air traffic, which has made Serbia a serious partner for international transport and logistics in this part of Europe. Deputy Prime-minister Mihajlović explained that Serbia is working on making efforts to implement one-stop border crossings with all its neighbours. She pointed out that this process is going faster with countries that are not members of the EU, than with EU Member States. Not only the construction of new roads and the reconstruction of railways are important for raising competitiveness, but also the removal of non-physical barriers, which affect 30 to 40 percent of the costs that appear in transport and logistics, the Prime minister stated. She emphasized that Serbia is realizing its strategic goals, and that the value of investments is growing from year to year. Minister Mihajlović invited all interested companies to invest in Serbia.
Mr. Miodrag Poledica, State Secretary at the Ministry of Construction, Transport and Infrastructure of the Republic of Serbia and PA1b PAC (Priority area coordinator) welcomed participants also on behalf of Mr. Franc Žepič, Secretary at the Slovenian Ministry of Infrastructure and PA1b PAC.  First he explained aim of macro-regional strategies and the tasks and results of PA1b work that started in 2011. Then, among others, the Serbian PAC said: "Respecting the path of European integration, the Republic of Serbia has harmonized its development with the common standards of Europe and thus enabled the realization of an efficient connection both within the European continent and with the Middle East. In this regard, in order to increase the standards of citizens and mobility, Serbia aims to connect with all neighbouring capitals, while meeting the criterion that travel time should not be longer than 3 to 4 hours between capitals. Pan-European Corridor no. 10 and road E-763 from Montenegro to Belgrade (part of SEETO Corridor/Route 11 that continues to the border with Romania) are the most important transport routes to achieve this ambitious goal.
Investment in infrastructure is the driver of the economy at the time of project implementation, because it engages a large workforce of all structures and a large amount of raw materials and equipment. Its effects are far-reaching, as it accelerates the development of the economy at the national and local level.
When it comes to railway infrastructure, Serbia is investing in the modernization of the railway from Belgrade to Subotica for speeds up to 200 km/h and also in other sections of Pan-European Corridor No.10, while the railway infrastructure manager also places special emphasis on regional railways. Last year alone, about 276 km of railway infrastructure was reconstructed, and this year it is planned to continue the works with a total length of about 320 km. Serbia is entering a new investment cycle. The planned level of investment in 2019 in road, rail, waterborne and air transport infrastructure will reach a value of about 5 billion euros.
In a keynote speech Mr. Borko Crnogorac, B2B Product Development Director Telekom Srbija a.d spoke about how digitalization and automatisation determine the future of transport and logistics.
Followed 4 panels:
Panel 1:  "Transport Infrastructure of South East Europe and Danube Region" was moderated by Prof. dr Slobodan Aćimović, Faculty of Economics, University of Belgrade. Panelists were:
Miodrag Poledica, State Secretary and PAC, Serbia
Alain Baron, Director – Transport Community, DG MOVE, European Commission,
Ahmet Murat Turkoglu, General Director, AZVIRT Balkan Construction, Azerbaijan
Mansurbek Sultanov, Director RZD International Serbia, Russia
Prof. dr Safet Kalač, President of Railway infrastructure ltd., Montenegro
Siniša Malus, CSEBA / Chinese Southeast European Business Association (Croatia).
Panel 2: "Development of multimodal infrastructure in Serbia, future strategies and challenges"
Moderator: Branimir Gajić, Communicologist
Panelists:
Erich P. Cossutta, President Dragon Maritime Group As Agent of COSCO Shipping Lines Co.Ltd.
Lazar Radakovic, Assistant to Minister for rail and intermodal transport, Ministry of Construction, Transport and Infrastructure, Serbia
Milan Maksimović, Executive Director, Infrastruktura železnice, Serbia
Andrej Cah, Management Board Port of Koper, Slovenia
Panel 3: "Comparative advantages of air, water and rail cargo transport and related services"
Moderator: Marjan Banelli, Accredited lobbyist for transport in the EU Parliament
Panelists:
Alp Er Tunga Ersoy, General Manager TAV Macedonia, TAV Airports Holding – Turkey
Rui Pinto, Deputy CEO & Chief Commercial Officer Thessaloniki Port Authority, Greece
Dr Deda Đelović, Deputy Executive Director Port of Bar, Bar, Montenegro
Vladan Vučelić, Commercial Director Port of Adria JSC, Bar, Montenegro
Wojciech Szymulewicz, CEO Adriatic Gate, Rijeka, Croatia
Melita Rozman Dacar, Director SŽ-Tovorni promet, d.o.o., Slovenia
Gordan Žurga, Director HŽ Cargo d.o.o., Zagreb, Croatia
Milen Đokić, Director Standard Logistic d.o.o. Beograd, Serbia
Panel 4: "Improvements in road transport and Optimization of logistic services in line with market demand" was moderated by Goran Aleksic, General Director of Business Association for Road Transport "Srbijatransport".
Panelists were:
Ivan Milićević, Logistics Business Development Manager Nelt Group
Nemanja Andrić, Supply Chain Manager Ball Packaging Europe Belgrade ltd
Dragan Simović, Director Gebrüder Weiss
Željko Mandarić, CEO Manšped d.o.o. Rijeka
Jovan Popović, Sr. Territory Account Manager Zebra Technologies
mr Željko Trbović, Mayor of Municipality Pećinci
Dragan Suhanek, CEO CP Security
All together conference participants had the opportunity to hear and/or see presentations of over 30 eminent speakers.
B2B meetings: In parallel to conference panels, there was a great interest in B2B meetings. Over 270 individual meetings were held during the day.
The Serbian PA1b PAC (Ministry of Construction, Transport and Infrastructure of the Republic of Serbia) hosted the round table "Construction of railway and road corridors – effects of investments on the improvement of freight transport".
Award ceremony: The conference TIL 2019 traditionally ended with the Brand Leader Award ceremony. Awards were received for:
–  the business person of SEE in the field of transport and logistics,
– exceptional personal contribution to the development of the transport market of Southeast Europe,
– exceptional cooperation and contribution to the development of the "One Belt-One Road" project,
– the Brand Leader Award 2019 was received by another 17 companies.
On the margin of the conference both PA1b PACs networked with participants in order to exchange views on open transport issues in the Danube macro-region as well as to promote implementation of the EU strategy for Danube region (EUSDR).
Presentations:
More about the TIL 2019 conference, including conference publication at:
https://www.massmediainternational.rs/Program-TIL2019?lan=eng
———–