CONSTRUCTION OF THE M-14 ROAD SECTION FROM BALTI TO CRIVA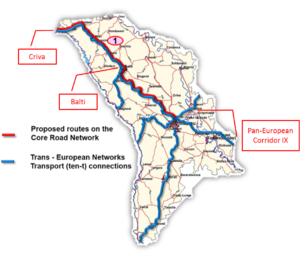 OVERVIEW
This project regards the rehabilitation of the road M-14, from Balti to Criva (i.e., 133 km). The road M-14 extends for 265 km from Criva to Chisinau and is considered of major importance by the Government of Moldova and a backbone of the national road network.
The M-14 crosses the country from the North-Western border with Ukraine's province of Chernivets'ka to South-Eastern border with Ukraine's province of Odes'ka and passing through the capital city of Chisinau. In correspondence of Chisinau, the road M-14 intersects the Pan-European Corridor IX. This section of the M-14 is classified as proposed Route 1 on the national core network.
The promoter of this project is the Ministry of Transport and Road Infrastructure and the project is in line with a number of policy documents:
GOAL
The rehabilitation of the road M-14 would have a direct impact on the improvement of the road connection with Ukraine and contribute to the integration of Moldova into the transport system of the Eastern Europe.
COST
The total investment cost is estimated at € 98.144.826.