CONSTRUCTION OF THE BYPASS OF PODGORICA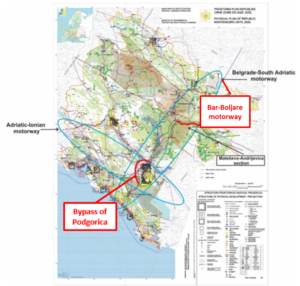 OVERVIEW
This project regards the construction of the bypass of Podgorica, localised where the Adriatic-Ionian and Bar-Boljare motorways intersect. The bypass starts in the vicinity of interchanges at Farmaci and Zelenika and intersects the main roads M-2 and M-3 Podgorica-Cetinje and M-18 (E-762) Podgorica-Niksic.
The promoter of this project is the Ministry of Transport and Maritime Affairs of Montenegro.
IMPORTANCE
According to the design, the connections of main roads with the motorway will be realised through grade-separated interchanges (i.e., horn type). Moreover, the road section intersects several local roads, without direct connection. The most important are the roads to Krusi and Progonovici, the road to Mareza, the road to Danilovgrad and the road to Piperi.
COST
The financial analysis has not been carried out.